JWRV #HappyCamperBlog
Post 005: JWRV Frequently Asked Questions (FAQs)
At Johnnie Walker RV, we take pride in being able to answer your RVing questions, no matter what they may be! From answers to general questions to recommendations on vehicles, parts, tools, camping spots, etc., we are always ready to help out!
Below, you'll find answers to some of the most commonly asked questions we receive. We know every one of our customers has unique needs and preferences — so feel free to reach out to us 24/7 with any other RV questions that we can help answer specifically for you!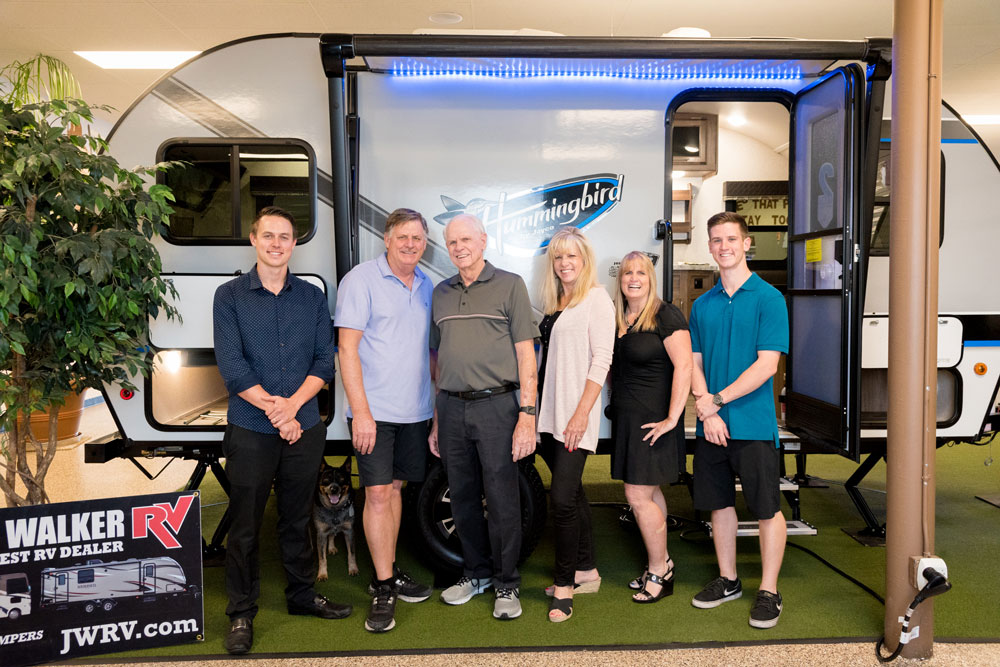 General RV FAQs
At Johnnie Walker RV, we take pride in being able to answer your RVing questions, no matter what they may be! From answers to general questions to recommendations on vehicles, parts, tools, camping spots, etc., we are always ready to help out!
What is an RV?
RV stands for "recreational vehicle" and refers to any vehicle that combines transportation and living quarters. RVs are meant for camping and recreation and can come in the form of motorhomes or towables. Motorhomes offer a front driving compartment and a living space within a single vehicle, while towables are a boxed in living space pulled behind another vehicle such as a truck.
What types of RVs are available?
Here is a basic rundown of the main types of motorhomes and trailers you may come across:
A large, bus-like motorhome with connected living and driving compartment. These generally range from 26ft to 43ft. Class A motorhomes are also known as a coaches or motor coaches.
Class A Gas –

these are suited well for longer family adventures or get-aways; they allow for the ability to start the RV enjoyment while on the road. While mom, dad, or Uncle Harry are at the wheel, the rest of the family is free to enjoy the motorhome amenities, like the kitchen and entertainment center! Class A gas motorhomes generally cost less than the diesel alternatives because they are lighter, smaller and have a lower towing capacity.

Class A Diesel –

these are best suited for longer RV trips, including cross-country treks, since they feature a smoother ride and more torque, which means a higher towing capacity. Diesel Class A's will have no issue towing a vehicle. They often feature even more creature comforts including exhaust braking, air ride suspension for a smoother ride, luxury furniture, residential refrigerators, etc.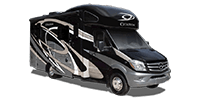 Smaller motorhomes in the form of a van. These are generally 14-30ft long. Class B RVs are economical as they generally offer better gas mileage; their smaller size also makes them easier to park. This small size does come at a cost, however, as Class B models have much smaller holding tank capacities and can cost nearly as much as their much larger Class A relatives. Class B's are well suited for short trips with few passengers, or longer trips for minimalists! Class B's come in both diesel (generally Mercedes) and gas engine models. They are also known as a camper vans, conversion vans or van campers.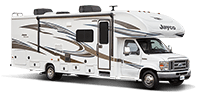 Motorhomes similar in size to large rentable moving trucks. These are generally 22-37ft long. Class C motorhomes have a built-in compartment over the driver and passenger seats, giving it a "cab-over" profile. Class C's are built on "truck chassis" whereas Class A's are built on "bus chassis." However, Class C motorhomes can be just as big and luxurious. Class C motorhomes are wonderful family get-away mobiles that are considered by most to be easier to drive than a Class A due to their smaller profile. Super C motorhomes also exist, which are generally Class C's on steroids (built on a larger chassis and powered by a diesel motor). These are also known as mini motorhomes, or diesel pullers.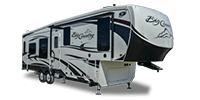 A towable trailer that connects to a truck using a special fifth-wheel hitch that is placed in the center of the truck-bed above the truck's rear axle. These generally range from 19ft-40ft. Fifth wheels come in a variety of shapes and sizes, and are often owned by more seasoned RVers. Many snowbirds and full-timers choose to RV in fifth wheels as they offer large living spaces, more insulation, and can be disconnected from the tow vehicle once the camping destination is reached. Fifth wheels are also known as 5th wheels or fivers.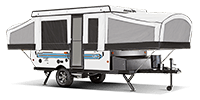 A compact trailer that is collapsible and lightweight to the extent they can even be towed behind some mid-sized cars. Tent trailers generally range from 8-16ft in length. The limited space in a tent trailer makes it best for very quick, close to home RV trips. They generally are a great starter RV for younger families to initiate into the RV lifestyle as they are easier to tow, store, and cost less money. Tent trailers are also known as camper trailers, fold-down trailers, folding campers, pop-up trailers or folding trailers.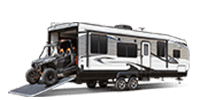 A type of fifth wheel or travel trailer with a ramp and a garage that are meant to carry "toys" in addition to having living quarters and being fully self-contained. Toy-haulers are generally 18-40ft in length, are built more rugged to be taken off the asphalt, or off the grid! Accordingly they are built with higher ground clearance than traditional RVs, and offer larger tank capacities to provide the ability to dry camping for an extended period of time with no park hookups. Many toyhaulers are equipped with a generator to provide access to the 120V appliances, like the microwave and A/C, and to keep the batteries charged while dry camping. Each toyhauler has a large rear door that turns into a ramp to access a garage space, which is typically used to transport motorsport toys including ATVs, dirt bikes, small cars, sport motorcycles or snowmobiles. Some toy haulers feature an "open garage" floorplan, where others have a door partition which separates the garage from the living space. Some full-timers prefer to use the toy-hauler garage space as a workshop, studio, kids room, or separate living area.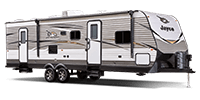 A towable trailer used as living quarters which is connected to a tow vehicle via a ball hitch. Travel trailers generally range from 14ft-33ft, and are a great option for new or seasoned RVers alike! Also known as a bumper pull trailer, camper, conventional trailer, tagalong trailer or travel trailer coach.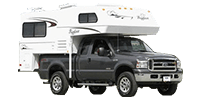 Truck Camper:
Living quarters that attaches/mounts to a full-size pickup truck by sliding over the bed and the cab of the truck. When unfastened from the frame of the truck, a truck camper sits on its own legs for convenient camping. Since these campers are fairly small and have limited tank capacities, they are usually suited for short trips or preferred by minimalists.
What do weights and ratings mean when it comes to RVs?
Here are some of the common RV weight terms you will likely come across and what they mean:
Gross Vehicle Weight (GVW) –

the weight of the entire RV or trailer when it is fully loaded. This includes cargo, passengers, fluids, equipment and so forth.

Gross Vehicle Weight Rating (GVWR or Maximum Loaded Trailer Weight) –

the maximum weight your GVW should not exceed.

Gross Trailer Weight (GTW) –

the entire weight of a fully-loaded trailer being towed. This is similar to GRV but applies specifically to trailers.

Gross Combination Weight (GCW) –

the entire combined weight of a tow vehicle and the fully-loaded trailer it is towing.

Gross Combination Weight Rating (GCWR) –

The maximum combined weight that your trailer and the vehicle towing it should not exceed.

Gross Axle Weight (GAW) –

the weight placed on a single axle of an RV.

Gross Axle Weight Rating (GAWR) –

the maximum weight that should be placed on a single axle of an RV.

Tongue Weight (Tongue Load) –

the weight being pressed down on a hitch ball by a trailer.

King Pin Weight –

the weight being pressed down on a fifth wheel hitch by a trailer.

Curb Weight –

the definition varies by manufacturer, but curb weight typically includes the weight of the RV or trailer and its equipment plus the weight of full tanks of fluids including water, fuel and propane.

Dry Weight –

this definition can also vary by manufacturer, but usually refers to the weight of a vehicle or trailer and its equipment without considering factors like fluids, passengers and cargo.

Unloaded Vehicle Weight (UVW) –

the weight of a vehicle or trailer when it is straight from the manufacturer, including any fluids. This number does not take water, cargo, propane and any accessories installed by the dealership into consideration.

Cargo Weight –

the weight of all items in an RV or trailer plus its curb weight.

Payload Weight –

the maximum combined weight of the people and cargo in a trailer or vehicle. This is technically a weight rating.
How much maintenance does an RV require?
Maintenance needs differ from RV to RV and depend on many factors including the type of vehicle, model year, and features. Motorhomes will require regular maintenance such as oil+oil filter; air filter, fuel filter, hydraulic system maintenance, coolant replacement and generator service on motorhomes specifically. Other RV maintenance items include exterior maintenance — repairing seals and seams to prevent water damage, treating/sealing rubber roofs to prevent sun damage; axle lube/seals; brake maintenance; cycling/maintenance of batteries; and other misc. exterior and interior upkeep. If you use your RV regularly, you should expect to spend at least a few hundred dollars per year on maintenance.
What kind of gas mileage can I expect from a motorhome?
Gas mileage will vary depending on factors such as the motorhome length and weight, the outside temperature, the terrain, etc. Of course, the larger the rig, the less fuel efficient it will be. For larger Class A RVs, you can typically expect 6-10 miles per gallon, while smaller Class A/B/C's will get closer to 9-15 miles per gallon. If you are towing a trailer or fifth wheel, the same logic applies: the lighter it is, the less gas you will use. Generally diesel motorhomes (or diesel tow vehicles) will get better gas mileage than their gasoline powered alternatives.
Do I need a special license to drive an RV?
Generally, your state driver's license is enough to operate a recreational vehicle unless it is specially classified as being oversized. However, the laws differ from state to state, so we always recommend looking up the requirements for where you live. Most states (including Nevada) only require an endorsement on your license if your Gross Vehicle Weight Rating is over 26,000 pounds, or if your towed vehicle makes your total length longer than what the state allows.
What are the benefits of RV travel?
We love the freedom of the RV lifestyle – you can pick up and go almost anywhere on your own time as long as there's a road to get you there! RV spaces also tend to be much more affordable than hotels or motels, but with comforts of home (and the savings offset any fuel expenses). We're also dog lovers so it's great to take the pups with us without worrying whether they'll be allowed in the place we're staying!
The bottom line is that RV travel is flexible, affordable and convenient. You cannot put a price on the memories made or the bonds that form between friends and family thanks to the quality time spent together traveling and exploring the country.
Do RVs require special insurance?
In most cases, yes. RV insurance is required by banks when financing, and all states require at least minimum liability coverage. Insurance features and costs vary widely based on your specific RV year, type and usage, the state you live in, your driving history as well as other factors. Several additional coverages are available for custom equipment, vacation liability and roadside assistance.
Will my vehicle be able to tow a trailer?
Towing capacity differs from vehicle to vehicle and we recommend checking with your local auto or RV dealer for specifics. Trailer Life Magazine also offers a comprehensive towing guide – learn more by clicking here
RV Buying FAQs
Should I buy a new or used RV?
While there is no right or wrong answer to this question, we have found that it really depends on your needs and budget. Our team of experts will work with you one-on-one to figure out which RV might be right for you; we have between 200-300 RVs in stock at any given time, and will never pressure you into a sale. We want you to be 100% satisfied no matter what RV you choose, so we offer service and extended warranty options on every vehicle we sell.
The main advantage of buying a new RV is getting the latest features and options, plus the included service and warranty offered by the manufacturer. However, just like cars, RVs do depreciate in value the minute you drive them off the lot, so we offer pre-owned RVs for an even more budget friendly buy. And you can find many of the same luxury features in used models for a great price through JWRV, with the assurance that the RV has been thoroughly tested, inspected, and backed by our RV pros.
We always advise our customers to really consider their needs and take the time to explore all their options. We understand that purchasing an RV is a big decision and with our combined years of RVing experience, we are here to help you make the best one!
What features should I look for in an RV?
Again, this varies depending on your individual needs and budget. We carry a huge selection of motorhomes, travel trailers, fifth wheels, toy haulers, tent trailers and more, all of which come with their own unique features ranging from basic to ultra-luxurious. Our experienced team is prepared to explain these features and benefits to you so you can be sure to find the RV that best suits your lifestyle.
What size of RV is best for me?
This really depends on your needs and comfort level since there's a good chance you will spend a lot of time inside your new RV. We always recommend taking a motorhome for a test drive before committing to purchasing so you can be sure you are comfortable driving it on freeways, roads and backroads. It's also important to consider how comfortable you will be with the space inside your RV. We invite you to sit inside each RV you consider for at least a few minutes to make sure you are happy with the floor plan and you feel at home. If you make a purchase, we'll even invite you to stay with us in one of our overnight spaces while you get to know your new RV!
Do you accept trade-ins when buying a new RV?
Yes! Johnnie Walker takes trade-ins when you are purchasing a new and used RV. We also buy and consign RVs if you aren't ready to make a new purchase. Feel free to contact us any time or fill out our trade form
Should I finance my RV?
Typically, we think financing is a smart way to purchase an RV. When you finance rather than paying cash or liquidating assets, you're able to maintain more financial flexibility, plus the RV may qualify for some of the same tax benefits as a second home mortgage.
In most cases, financing through RV lending specialists that work directly with Johnnie Walker RV can provide smaller down payments, longer finance terms and lower monthly payments. These lending pros know that RVs can maintain value and have good resale appeal, so they tend to offer some very attractive terms. The common payment plans range from 15 to 20 year so you can afford the RV you've been dreaming of.
We have multi-year, long-standing relationships with trusted RV finance lenders such as America First Credit Union, Mountain America Credit Union, Bank of the West, US Bank, Medallion Bank, Marine One, Ally Financial and Merrick Bank, so we can get you the best possible rates with terms of up to 20 years. Click here to apply today! Do you have additional questions about RV financing? You can learn more here.
Should I buy a gas or diesel RV?
Just like most major purchases, gas and diesel RVs each have their own pros and cons, and the ultimate choice will depend on your travel goals, budget and specific needs. For example, diesel motorhomes tend to have more space for longer trips, but often come with a higher price tag and steeper refueling costs. They are also slightly more expensive to maintain, and diesel is not available at all gas stations. But diesel motorhomes tend to be the more durable choice for cross-country excursions and full-time motorhome living. Rear diesel engines also offer a quieter drive than front gas engines, and have significantly more power. However, luxuries and comfort features are available in both gas and diesel models, so your options are plentiful. No matter what your preferences may be, our team is ready to explain more about the pros and cons of gas versus diesel engines, plus to help you explore your endless possibilities!
What accessories and parts should I have for my first RV purchase?
This will depend on your needs, budget, travel plans, included features and options on your new trailer or motorhome, and several other factors. However, our experienced team can walk you through the must-haves and show you parts and accessories that will best fit your specific needs. Check out our easy-to-follow RV vacation checklist here , and our list of essential tools here for fun and easy reference.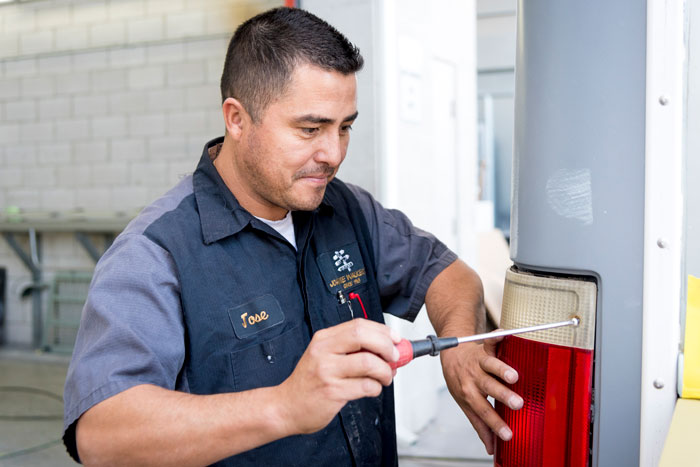 Johnnie Walker FAQs
Why should I do business with Johnnie Walker RV?
Johnnie Walker RV is a family-owned and operated business, and we consider you a part of the family from the minute you walk through our doors! As Nevada's oldest and largest RV dealer, we have been serving the RV community for over 55 years. That means you can expect no-pressure expertise, outstanding service and individualized attention, plus a huge selection of parts and vehicles from brands you can trust; we've tried them all over the years and have developed great partnerships with quality vendors and manufacturers as a result. There are so many reasons to do business with JWRV. Click here to see 100 of them and decide for yourself!
Can I sell my current RV at Johnnie Walker RV?
Yes! Johnnie Walker RV is one of the biggest RV buyers in Nevada. It would be our pleasure to help you find a buyer for your RV or make you a cash offer on the spot. We buy and consign both current and late model RVs including gas and diesel motorhomes, Class A, Class B, Class C, travel trailers, fifth wheels, toy haulers and more. You can get started by clicking here or calling us at any of our three locations.
Do you sell RV parts?
Absolutely! We offer two convenient parts stores in the Las Vegas area, with over half a million dollars in inventory on-site at any time! Looking for something special? Our 55+ years in business mean we've built strong relationships with trusted vendors and manufacturers, so you can be sure to get you what you need at a great price! We carry all the known RV brands including Dometic, Norcold, Carefree, Atwood and many more. Not sure what parts to choose? Our Parts Specialists come with decades of experience and can make personalized recommendations based on your needs and budget, plus show you how everything works. Visit us today or send an RV parts request and we'll be more than happy to assist you.
Do you offer RV service?
Yes! We service everything we sell plus offer regular routine maintenance, warranty work, body work, and major repairs through our master certified technicians. We also accept most RV insurance claims and offer free estimates at our collision center – and we'll work with your insurance company to make the process as hassle-free as possible. To schedule a service appointment, please call 702-903-2741 or fill out our online service form here.
Do you offer financing?
Yes. Thanks to long-term relationships with trusted lenders such as America First Credit Union, Mountain America Credit Union, Bank of the West, US Bank, Medallion Bank, Marine One, Ally Financial and Merrick Bank, we can get you incredible rates with terms of up to 20 years. Click here to learn more or apply.
Are you hiring?
We have very low turnover on the JWRV team thanks to our welcoming family environment and great benefits – but we never want to miss out on great talent! To view open positions or let us know why you would be an outstanding member of the Johnnie Walker RV team, click here or call Ronnie at 702-458-2092.
Questions? Get In Touch
(Easily unsubscribe at any time.)